All my favorite mugs have bees on them. Unfortunately, I broke my best one last week while drying dishes. It crashed onto the floor and broke into 3 big pieces. Dang, I loved that mug. I can glue it back together but it will never hold liquid again. I suppose it will make a nice pencil holder though. Depressed over the incident, I immediately went online to look for a replacement. Fortunately I found one and it arrived today - whew. While shopping, I also found loads of other fun bee mugs too!
Here are my top 8 picks from that search.
1. The Shirk Botanical Garden O'Joe Ceramic Cup by Red Barrel Studio.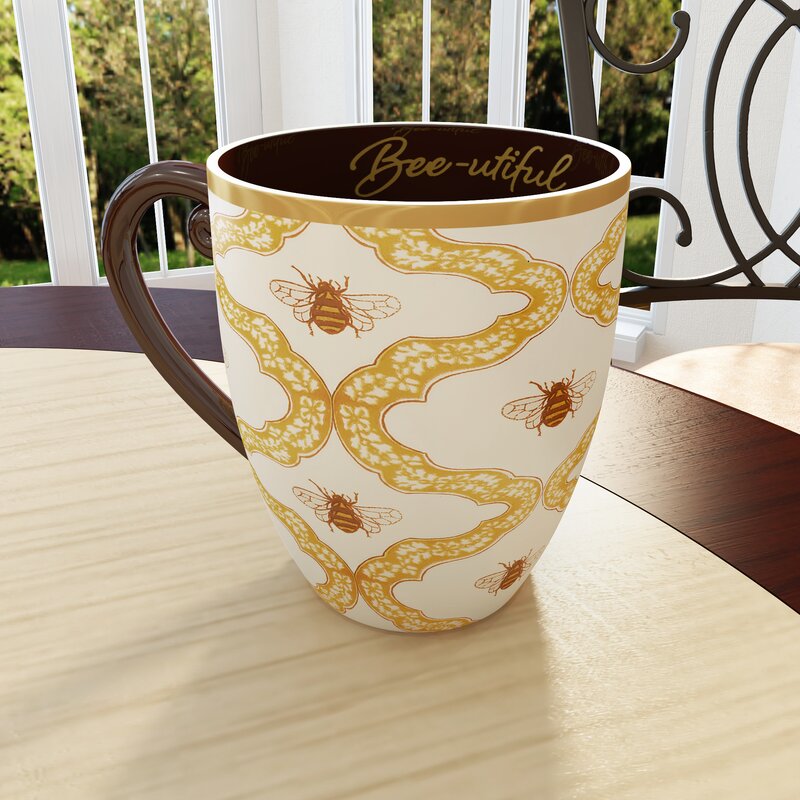 This mug is made of solid white ceramic and is printed with a bee and trellis motif in hues of cream, gold and brown. I adore the scrolling handle, plus check out the writing inside the cup. It's a great size too, holding 18oz of one's favorite beverage. This mug has gotten excellent reviews, and you can find it at Wayfair.
2. The Napoleon Bee Coffee Mugs (set of 6) by La Rochere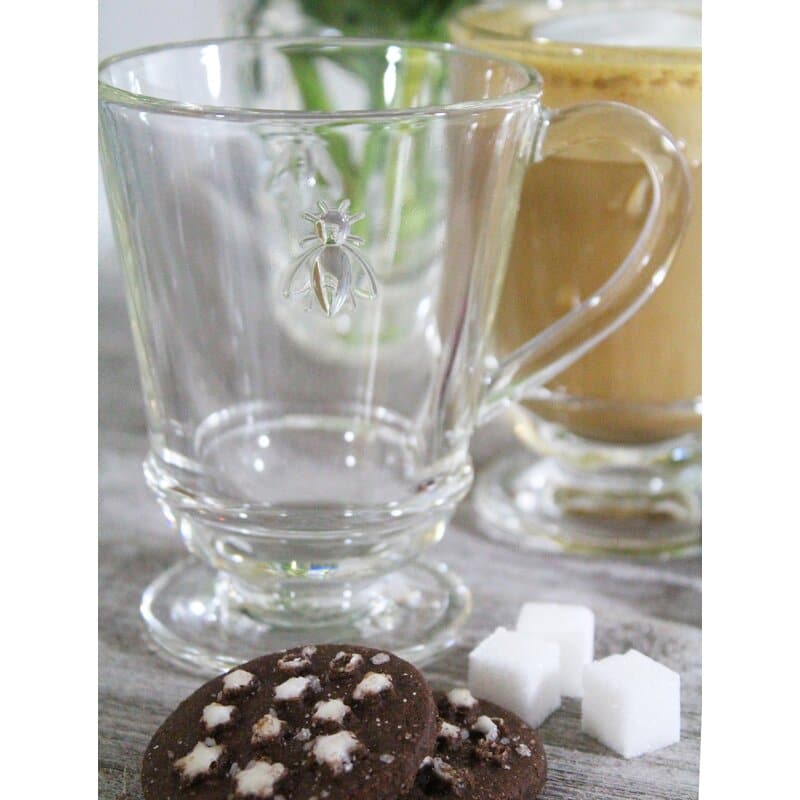 This set of six 9 oz mugs are made of thick clear glass. They are made at one of the oldest glass factories in France which has been making glassware since 1475 - very cool. Great for everyday or special occasions.The bee design is raised on the surface resulting in a long lasting finish. Great for everyday or special occasions.  I love that they're dishwasher and microwave safe. You can find them at Wayfair.
3. Garden Tile Mug at Anthropologie.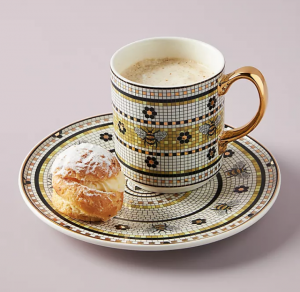 This lovely bee mug is hand-painted and decaled with shimmering metallic touches. The beautiful stying and incredible detail gives it a "Lunch at the Bistro" kind of vibe. The 14.75 ounce Garden Tile Mug along with a matching platter, dinner and desert plates, can be found at Anthropologie.
4. Queen Bee Coffee Mug with Yellow Interior by Mixing Spirits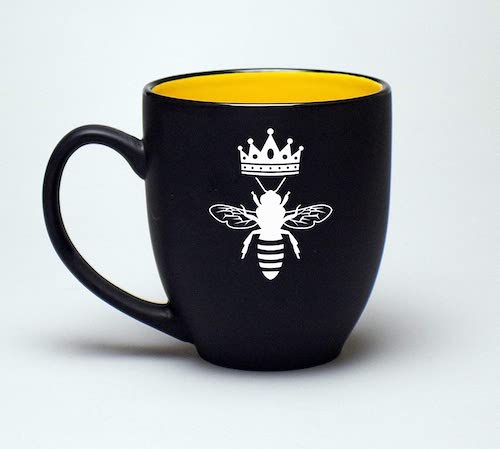 Love this mug! Unfortunately it's the one that I broke last week 🙁   I used it for everything. The engraved queen bee is beautifully detailed onto a solid white porcelain mug featuring a black matte glaze on the outside, and a glossy yellow glaze inside. It also come with other interior colors like green and orange and blue. The mug holds approximately 15 ounces and is also microwavable and dishwasher safe. It is etched and shipped in the USA and is available on Amazon.
5. Yellow Bee Mug by Bread and Badger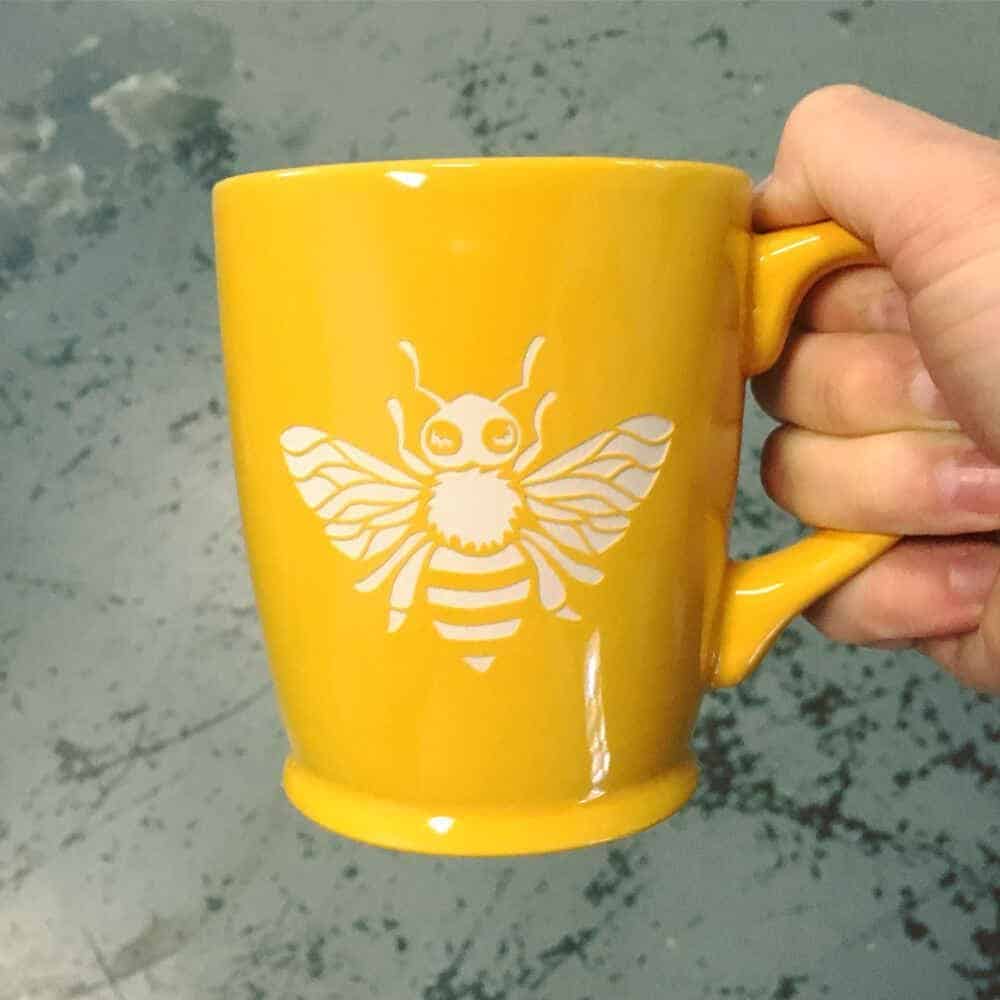 I own this one too and love it. It's a heavy duty mug made of solid white porcelain which is glazed both inside and out in my favorite shade of yellow. Did I mention that it has a large engraved bee on the front? LOL. The mug holds up to 16 ounces. Here again, it's totally microwavable and dishwasher safe. It also comes in other colors and styles. You can check it out at Bread and Badger.
6. Busy Bees Stamped Mug - Red Candy Ltd. UK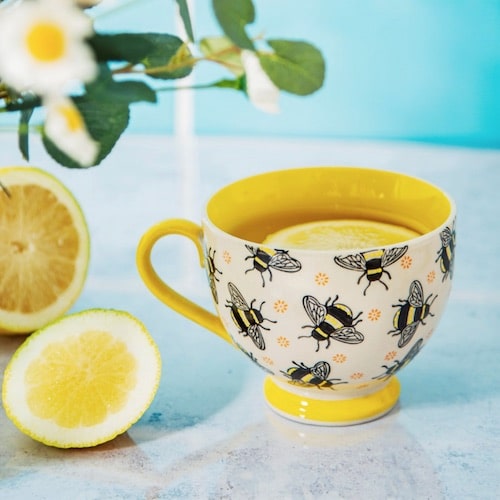 This cup is just too sweet to pass up. Bumblebees are hand-stamped on white porcelain with a happy yellow interior and handle. There are matching cereal bowls and two sizes of planters available as well. If you'd like to see more you can find it at Red Candy Ltd. in the UK. Although this company is in the UK, they do have international shipping. 
7. The Honeycomb Mug from William Sonoma.
This elegant mug has an 18k gold honeycomb design printed on a durable white porcelain mug with a glossy white glaze. It is amazingly dishwasher safe but not microwavable due to the 18k gold detailing.  The mug is made in Portugal and is part of the Honeycomb Dinnerware Collection (which is gorgeous). You can see the mug as wells as the entire collection at William Sonoma.
8.  Bee The Queen Coffee Mug - East Urban Home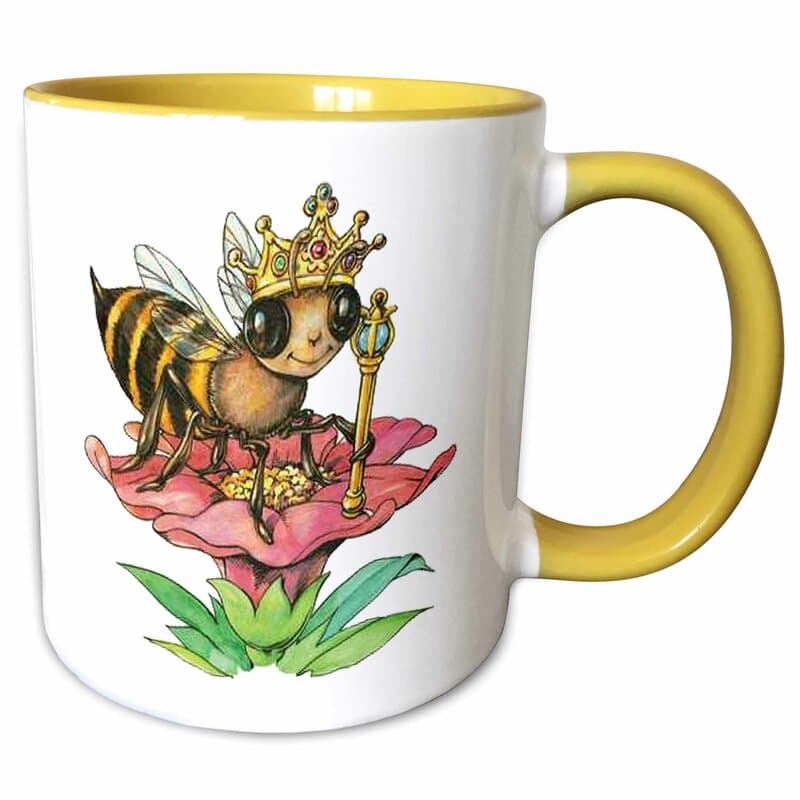 This mug is so adorable! This makes a a great gift for graduates, grandmothers or any Queen in your life. It comes in 5 color combinations and 2 sizes: 11 ounce and 15 ounce. The cute bee design is printed on both sides of the ceramic mug, is microwave and dishwasher safe, lead-free, and FDA approved. You can check out all the options at Wayfair.
So that's only 8 mugs out of many but I'll be listing more on the shop page soon. In the meantime, Bee Excellent!
Support Your Local Bees and Beekeepers.
They Keep Our Lives Sweet.
Mirrorbee® is a participant in the Amazon Associates affiliate advertising program as well as others, which are designed to help us earn commissions. Earnings from affiliate links allows Mirrorbee to continue to grow and stay true to our mission of bringing you our favorite picks on the market.  If you have any questions or would like more information on how this works, please feel free to reach out to us directly through our Contact Page.
Hits: 306