Honey, Ginger, Lime Dressing
 Add a zesty change of pace to your next salad with sweet honey, sassy ginger and a touch of tangy lime.  
I decided to try this dressing on one of my favorite salads an Organic Spring Mix lettuce, chopped walnuts, apple (or pear) chunks with a sprinkling of chopped mint and feta cheese. I was blown away. The ginger really brings it alive and the lime gives it a tang that l just can't get enough of not to mention the special sweetness of the honey.
Ginger Honey Dressing can be very light especially if you use MCT unflavored coconut oil. If you like a thicker dressing you can use a vegetable oil or other oil of your choice. It's also great for dipping bread into, as well as on summer salads, or even generously poured on baked chicken - yum!
A Flavor Note About Honey:   
I used a raw, local clover honey for this dressing recipe and the floral taste from the honey was very prominent. Keep this in mind when using different honey from different sources, it will change the flavor of your dressing depending on which one you use. For example, if you use Orange Blossom honey it will add that flavor. I suggest experimenting with different flavors to find your favorites.
 Great With:
Salads, Dips, Chicken
Ingredients
2 tablespoons - MCT Oil (unflavored Coconut) for a thinner dressing. OR, Vegetable, or other oil for a thicker dressing
1- 2 tablespoons - Lime Juice (depending on preference)
1- 2 tablespoons - Honey (clover or wildflower) (depending on preference)
1/4 teaspoon - S

alt

1/2 teaspoon - Ground Ginger (depending on preference)
Directions
Prep:  Because honey is thick it can be difficult to combine easily with other ingredients. Here's a few tips to make cooking with honey less frustrating:
Use a measuring cup with a spout for mixing because the thickness of honey makes shaking the ingredients together next to impossible. Plus, the spout will make it easier to pour into a narrow dressing container.
Warm your measuring cup (glass, pyrex, or plastic) before you pour the ingredients in it. The warmed container helps the honey thin out a bit making it easier to mix with the other ingredients. Fill the cup with hot water and let it sit for a couple of minutes to allow the cup to thoroughly warm up, then empty the water out.  Pour all ingredients into the cup and mix before it cools off too much.
Use an electric hand mixer for combining the ingredients. An electric hand mixer will not only thoroughly mix the honey and other ingredients together more efficiently, but will give the dressing an even consistency. You can use a regular wisk or even a fork, but an electric mixer or an electric hand mixer will do it far quicker.
Step 1: Pour all ingredients into the warmed measuring cup. 
Step 2: Blend with a wisk until completely mixed and smooth. 
Step 3: Let rest for 5-10 minutes for all the ingredients to merge. 
Step 4: Pour over salad or put into your favorite container. Be sure to give it a quick stir or shake before serving.
Makes about 1/3 cup dressing
120 calories per tablespoon.
Other Recipes You Might Like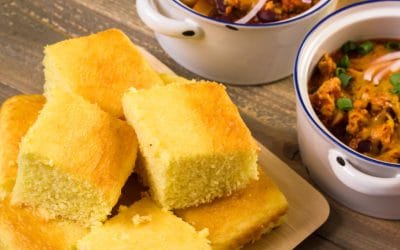 Cornbread is an easy and satisfying side. Add some honey to the equation and you've got a quick breakfast bread.The RecipePrep: 10 minutesCook:...
read more
Mirrorbee may earn compensation from affiliate links in this post. Click here to see our Affiliate Disclosure page.
Hits: 235